Production Team
Wardrobe -
Amanda Eason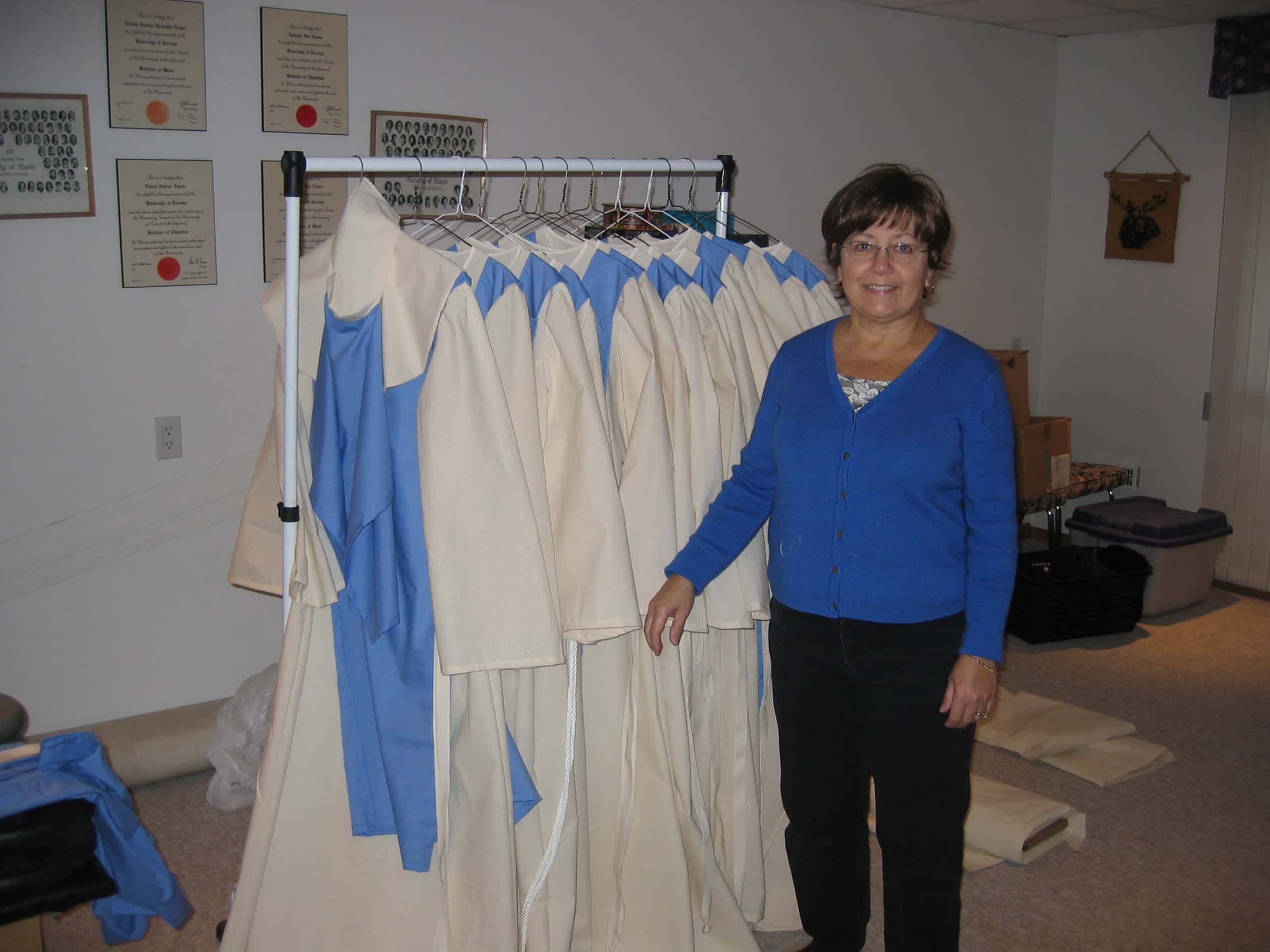 Amanda Eason has been Opera York's costume designer and wardrobe mistress, for the past two years. Beginning in March 2006, Amanda has gathered and developed costumes for Suor Angelica, Marriage of Figaro, La Traviata, Barber of Seville and Don Giovanni.
While still teaching music at Milliken Mills High School, Amanda began with Opera York, as co-coordinator of the Opera for Schools program. Seeing a need in costume design, Amanda stepped forward to produce costumes for Suor Angelica.
She began sewing as a teenager, and continued throughout her life. She sewed her own wedding party dresses, clothes for her children and eventually a wedding dress for her daughter. She has always enjoyed the creation of clothes and took courses at night school, in sewing, while teaching music at the YRDSB during the days. There is a history of tailoring in her family and she tells us that her grandmother was a seamstress in England and is known for originating the handkerchief sleeve.
Amanda lives in Markham. As well as her position with Opera York, she has worked with the Curtain Club in Richmond Hill and has recently accepted the position of Vice-Chair of the Markham Arts Council. Among her many talents includes her ability as a clarinetist, performing and conducting in groups across the GTA, including the Thornhill Community Band.
Like any work of art, Amanda develops her costumes over time, continually adjusting, adding and changing until she feels satisfied with the product. This year she has even begun designing the hats for the productions and also manages the company's many wigs. Each ensuing production's costumes are more intricately designed and her ability to mix and match pieces from previous works give the company increasing depth of wardrobe.
She recently gave a lecture in Richmond Hill on designing the costumes for the opera and delighted the audience by having them try on various capes, dresses, hats and suits. Her husband Ernie describes Amanda's passion for costumes as an obsession, working 12 hours days at times, but Amanda tells us it's all wonderful fun!
Amanda's talents include dealing with emergencies in a calm, collected and comforting way. She is a team member, working with the company's artistic director, stage director and set designer. You might say Amanda has the job of Opera York's costume design and wardrobe mistress "all sewn up."